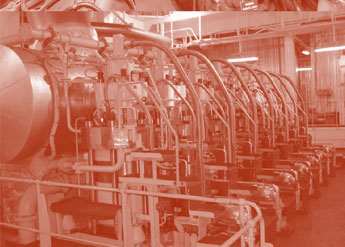 Ship Spray Shields For Engine Rooms:
Pressure Pipeline In Ships Play A Major Role In Delivering Fluids And Gases Critical For A Ships Day To Day Operation. Some Of These Gases And Fluids Are Flammable In Nature. The Number Of Ships In Worlds Merchant Fleet Were 51400 As Per 2016 Data. The Naval Strength Of World Stands At Approximately 8500 Ships.
There Is A Famous Sea Tale About A Fitter Who Was Once Asked "When Should You Replace A Pipe ?" And He Replied "When It Bursts."
Pipes Are Connected With Flanges Only Exception Being Low Pressure Small Bore Pipes Which Maybe Connected Via Threaded Joints.
What Makes A Ships Piping System Difficult Is Small Confined Spaces. It Gets Very Hard To Operate In Case Of A Leak Because Of Inadequate Spaces And Limited Head Or Body Room Availability. A Ship Shield Will Diffuse The Pressure Of The Dangerous Fluid Or Gas Released. It Will Keep The Operator Safe And Prevent The Liquid From Spilling Onto Your Electrical Boxes And Other Piping Assemblies Which Might Lead To Fire Or Accidents.
A vessel piping system consists of lines which move around pumps,deck and tanks. These pipe lines carry and discharge fluids as per process requirement. Pipelines running from pump to the tanks are known as bottom pipe lines, from the deck to the tanks are called drop lines, Pumps to the deck are called riser pipelines and piping on the deck is called deck pipe lines. These Shipping vessels have Valves installed for pressure regulation which are subject to a very high surge pressure during opening and closing. Theses valves operate on a controlled speed as any adventure may lead to a high pressure leak.
Flame Retardant Material Is Used In The Construction Of These Safety Ship Spray Shields Keeping In Mind Absolute Safety Of The Manpower At All Times.Aluminium And Silicon Insert Prevents Mist Formation And Resists Chemicals While Retaining The Flame Retardant Properties.Silicone Adds Thermal And Electrical Insulation To The Navy Shield.
Our Navy Shields Are Being Used By Luxury Cruise Ships Such As MV Celebrity Constellation, MV Celebrity Millennium And Many Others.
SOLAS:
International Maritime Treaty Which Ensures Ships Maintain A Minimum Safety Standard. INTERNATIONAL MARITIME ORGANIZATION: Regulatory Body Which Ensures That Best Safety Practises Are Followed By Ships And Enviromental Performance.