Flange Spray Shields
Government laws, Insurance requirements
Types of Flange Spray shields
Features of Flange Spray shields :
Flange Spray Shields
Flange Spray Shields
Flange Spray Shields or Flange Spray Guards are wrapped around Flanges to contain any spray outs caused by flange or gasket failure. In absence of Flange Safety Shields, the hazardous and corrosive nature of service fluid in these piping network which can seriously injure the workers and other people in the vicinity. Countless incidents have been reported in the recent past where lack of flange shields have caused grave injuries and numerous deaths.
Government laws, Insurance requirements
Government laws & Insurance requirements
The use of Flange Spray Shields have been made mandatory by government laws, insurance requirements & various other safety regulations such as OSHA 1910.132(a) , SOLAS REG.II-2/15.2.11, DSEAR 2015, ATEX Directive 99/92/EC (also known as 'ATEX 137'), ('ATEX 95') Directive 94/9/EC , COMAH.
Types of Flange Spray shields
Types of Flange Spray shields:
1. PVC Flange Spray Shield
2. PPL Flange Shield 
3. PTFE Flange Spray Shield
4. GI Flange Spray Shield
5. SS316 Flange Spray Shield With Mesh Protection
6. Pure Teflon Flange Shield
7. PP Strap Type
8. PP Box Type

Features of Flange Spray shields:
Features of Flange Spray shields:
A Flange spray shield or a flange protector is a protective encasing tool that completely diffuses the pressure of the spray out and renders it harmless. Flange Spray Guards are made from different material and designs based on the type of fluid, pressure rating, surrounding environment, temperature and cost effectiveness. However, all Safety Spray Shields, whether premium or economic, should have the following safety features such as:

a) Pressure Diffusion Technology:All Flange Spray Shield Shields should have a pressure diffusion mechanism in built. This helps in successfully diffusing the pressure and eliminating all probability of lateral spray outs and mist formation such as the dreaded oil mist.
b) Compatible With The Service Liquid:The material of the flange Shield or the safety spray shield should be compatible with the service fluid in the piping system. This means that the flange spray guard should not corrode or degrade when it encounters pressurized leaks.
c) Resistant To UV Radiation:Since 90% of the shields are exposed to the sun light, it should be ensured that all flange spray shields (FSS) are made from UV resistant material. Cheap flange safety shields available in the market have a notorious history of degrading under sunlight and breaking when subjected to the pressure of leak.

In addition, whenever possible, a leak detection patch should be included. This helps in identifying minute leaks early before they become a full-fledged nuisance and lead to any major incident. Also, Safety Spray Shields should be easy and quick to install and remove to facilitate quick maintenance.
PVC Flange Shield
PVC Flange Spray Shields are made from triple layered construct of polyvinyl chloride and a thick 1 mm Uv Resistant scrim at the centre for added strength and better pressure diffusion. This scrim does not allows any chemical to escape the guard in form of spray outs. This entire PVC flange guard is stitched together with high tensile thread. The locking mechanism of PVC Flange Shields includes Velcro & Tie Cords. The PVC Safety Shields also include a PH Indicating Patch for early discovery of a leak. PVC Safety Spry Shields are also available for advanced products in the piping system such as valves or shields for flow meters, pumps and other pipe joints. These shields are available for all the joints on the piping connection and for all the various pipe sizes. These Flange Shields are used in industries such as water treatment plants, Phosphate Handling, Food and beverages, and other chemical plants with comparatively lower temperature.
PTFE Flange Spray Shield
PTFE Flange Spray Shields or Teflon Flange Shields are spray shields from PTFE Coated Glass Fiber or Fiber Glass Cloth or Fabric. PTFE Flange Shields combines the chemical resistance and inertness of PTFE & Mechanical strength of fiberglass cloth. These Teflon Spray Flange Shields are highly resistant to chemicals and are one of the most commonly used safety shields in the world.
PTFE Flange Shields can be used with the harshest of chemicals even at 100% concentrations. PTFE Flange Spray Shields can is effective at a wide range of temperature ranging between -73°C to 228°C
Using nylon or cotton ropes decreases the PTFE glass fiber cloth shield life and increase your products cost and maintenance. Velcro cutouts are used on opposite sides for fastening the guard. All our spray shields come with a Litmus leak indicating patch in case of a flange leak. This Litmus patch allows for early detection of leaks. The locking mechanism involves a Velcro fastener and drawstring, which allows the guard to be installed by one person.
INDANA PTFE Flange Shields are constructed of Multi-layered Teflon Cloth stitched together with Military Grade Kevlar And Nomex Thread. In Addition to this, the PTFE Flange Shields contains an additional layer of Thick 100% Pure Teflon Scrim. This Scrim provides strength to the PTFE Flange Guard at stress areas and aids in diffusion of the pressure. A Pure PTFE scrim provides better temperature and chemical resistance and improved life of the shield. PTFE Flange Shield comes with all the standard features like A leak indicating PH patch which changes colour to indicate a leak, Teflon coated drawstrings and Velcro fastening. The most important feature of Indana PTFE Flange Spray Shields are our proprietary stitching patterns which prevents any wear and tear to the guards and assists in multiple removal and installations. Unlike American and UK, European manufacturers who provide flimsy shields in the name of economical variants and over expensive shields in the name of premium variants , INDANA makes PTFE flange shields in a single standard variant made from premium material which are built to last and provide guaranteed safety. Apart from flanges, these shields are tailor made for valves cover, check valves, expansion joints, ball valves, threaded fittings, unions etc.
SS316 Flange Spray Shield (Standard Variant)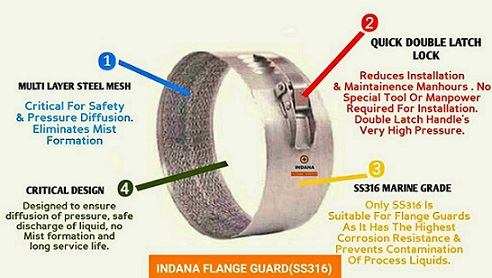 SS316 Flange Spray Shield is the standard variant of the Metal Safety Spray Shields. SS316 Flange Shield are made from certified SS316 Stainless Steel which has been rolled as per our specification. Metal Flange Shields by Indana have a very unique design which completely dissipates the pressure of the spray out and renders it harmless. The following are the safety features of the SS316 Flange Spray Shield (Metallic):

1) Multilayers Mesh: All SS Flange Shields have multiple layers of mesh on the inner side of the shield. After the installation of the Flange Spray Shield, the layer of mesh falls in between the flange surface and the surface of the flange spray shields. During an event of a spray out, the pressurised spray first passes through the layers of mesh which slows it down completely and when it hits the body of the shield, it is completely drained of its kinetic energy and becomes harmless.

2) No Lateral Spray Out: Most of the flange spray shield designs in the world has a problem of lateral spray out. Indana Safety Spray Shields eliminates the possibility of spray outs.

3) Double Locking Quick Latch: Most Flange Guards still use the decade old crude mechanism of nut bolt locking. This is time consuming, consumes a lot of man hours and makes maintenance tough. This also makes the maintenance staff lethargic and many a times flanges are left with safety spray shield. Indana Flange Spray Shield uses quick locking double latch which makes installation and removal a play of seconds. Also this latch has a double locking mechanism which makes the metal flange spray shield more secure.

4) All The SS316 Flange Shields are completely tested before dispatch. This is done to make sure that the guards are in line with our quality standards and our customers receive the best which the deserve.

For gas services, PTFE, Neoprene & Silicon lined Safety Spray shields are also available. These flange spray shields can be fitted with nozzles which can be individually fitted to gas detection systems or act as sniff port for hand held gas detectors.

SS316 Safety Spray Shields can be fabricated for any joints on the pipeline network like unions, bends, plug valve, check valves, ball valves, exhausts, threaded fittings, expansion joints, heat exchangers etc.
HDG GI Flange Spray Shields (Economical):
Hot Dip Galvanised Flange Spray Shields are similar to SS316 Metal Spray Shields in design and functionality. These GI Safety Spray Shields are made from Hot Dip Galvanised sheets. These Flange Spray Guards have been designed for applications where the service fluid are not highly corrosive and a more economical solution is required. HDG GI Flange Guards performs well with mildly corrosive environment and are highly recommended.
PVC is resistant to most of the commonly used acids, salts, and alkalis. These flange guards can be easily used at temperatures below 140 degrees Celsius and are dielectric constant.
Pure Teflon Flange Shield

Pure Teflon flange shields are made from a 100% Pure Teflon Film. The Pure Teflon Film Spray Shields can be used in the most challenging environment and remains unaffected by long period of chemical exposure.

Similar to TFE Flange Spray Shields, these can be cleaned and used repeatedly. These shields use draw strings. Like Stainless Steel Flange Spray Shields, these shields can be used in Food processing plants, chemical processing Industries and clean room without any fear of contamination.
Polypropylene Flange Spray Shields:
PP Flange Spray Shields are available in a box type design. These Safety Spray Shields completely encases the flanges and ensures that no vertical or lateral spray out takes place. These flange shields also acts as a temporary reservoir of the spray outs can be easily drained out with the help of a drain or a outlet nozzle.
<