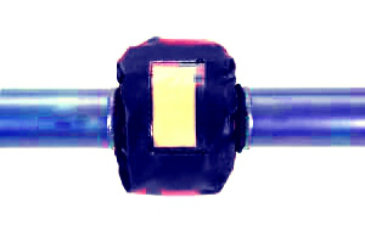 The PVC SPRAY safety shield is part of our portfolio of customer-accessible safety protection. We strongly believe in safety for all.
Though earliest discovery of Poly vinyl chloride or PVC or vinyl goes to 1835, first commercial production started in 1935 a hundred years later of PVC pipes which were used for supply of drinking water.These pipes are still in use in germany without any major problems.Being the third most used plastic the world.PVC has a low rate of recyclability.The ignition temperature of PVC is as high as 455°C.PVC has good resistance to some of the commonly used acids,salts and alkalis. These Flange spray guards can be easily used at temperatures below 120 Degrees Celsius and are dielectric constant.
The Chlorine Content in PVC makes the Flange shields fire retardant. PVC has a natural advantage as it is also available in a transparent material.
PVC Spray Protection and Tie Cords are self-extinguishing, nonflammable, and non-combustible. As an organisation we believe in safety for all and these shields are part of our range of affordable flange safety shields. These shields come in a standard Guarantee of 18 months.
Download the catalogue